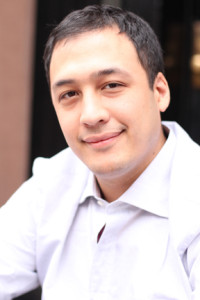 Justin Chu, the founder of New York Muscle Release Therapy, received a Bachelor of Science degree from Tufts University and a Massage Therapy degree from the New York College of Health Professionals, Associate of Occupational Studies Massage Therapy.  A Licensed Massage Therapist in the State of New York,  he also earned a Massage Therapy Diploma from the Dennis Gibbons School of Massage Therapy and Integrated Medicine in Cleveland, Ohio.
Justin's interest in the human body and how it works began at an early age when he started studying karate.  In the course of developing the many martial arts skills required to achieve a black belt, he learned about the structure and function of the body in motion, including pressure points, proper use and coordination, and how to prevent injury.  He later began studying Tai Ji  with a master who was also a graduate of the Yunnan Medical University.  She shared not only her skills in Chen Style Tai Ji and Wudang Sword, but also her deep understanding of herbs and Traditional Chinese Medicine.  While at Tufts, Justin also enrolled in a course in Chinese Medicine to add further depth to these lessons.
Justin first experienced Muscle Release Therapy in Tulsa, after receiving a treatment from Dani Cap Lema, a former dancer at the Tulsa Ballet.  After the treatment, Justin felt his body was balanced and infused with energy, and found that many of the movements he practiced in martial arts felt effortless when the body was properly aligned.  He found out from Dani that she had learned the technique from Dennis Gibbons, the one who developed the technique.  He later went to Ohio to receive treatments from Dennis, becoming increasingly fascinated with the technique and how it remarkably re-balances the body using the most subtle and gentle re-positioning techniques.
Dennis Gibbons is an extremely accomplished healer and enlightened educator regarding the complexities of the human body.  He developed The Gibbons Concept© (a study of Soft Tissue Analysis and Assessment), as well as Muscle Release Therapy,  MRTh®.  Dennis has helped countless people with his technique, including, notably, Rudolf Nureyev.  Dennis is a member of numerous professional organizations and massage therapy advisory boards, and was a 2015 Inductee into the Massage Therapy Hall of Fame.
Although settled in a career in computers and marketing, Justin was inspired by Dennis to go back to school to obtain a license in Massage Therapy in order to bring Muscle Release Therapy to New York.  He would like to help people from all walks of life — from professional dancers and athletes, who encounter pain as a byproduct of their careers, to people recovering from injuries, or to those who just need relief from the physical stress and imbalance in their daily lives.